The best 14 commercial brewing equipment UK,USA,Australia,Canada,Germany,France,Europe,The best commercial beer brewing equipment can help you maximize business profits. Commercial beer brewing system contains many independent systems to ensure the high quality of brewing beer. Here is a list of the best commercial beer brewing systems.
---
1

、

Best hops adding gun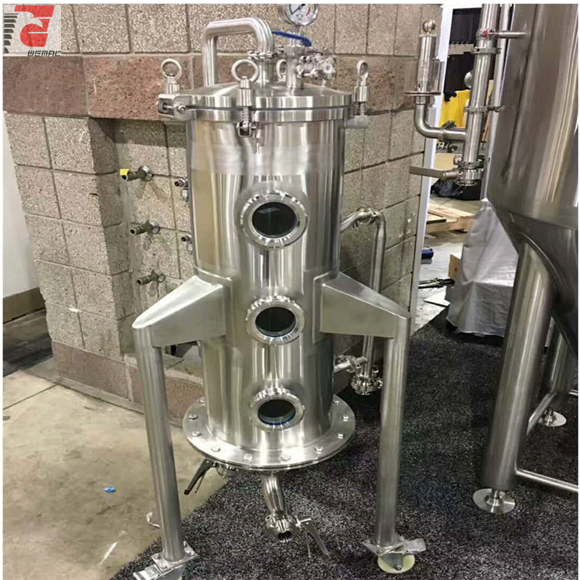 Advantage:
You choose the best hops gun and the hops ,the best material is food grade 304 stainless steel. The thickness is also the best. A lot of beer equipment is not good enough, the thickness of the material is not enough, because many beer equipment manufacturers do not love these beer equipment.
adding tank are the equipment for hops feeding in the beer production process. It is usually used in beer mash process and fermentation process. The traditional hops feeding technology is manual operation. Hops were moved to tanks by laborers. It is inefficient, jumpers cannot be used effectively, and there are risks in the process of adding. The new type of hops gun independently developed by WEMAC can solve these problems well. The utilization efficiency of hops is improved, and the effective components in hops are effectively utilized. With the use of the hops gun, the operation process is simpler and safer. The whole hops feeding process is more automatic. It can effectively control the waste and pollution in the beer production process.
Hops can be used in the process between boiling and settling. Hops are added to beer to form and strengthen beer flavor and reduce beer bitterness.
It can also be used for cooling period after beer precipitation. It can not only improve the taste and smell of beer, but also reduce the volume of stones in the process. Save manpower and cost.
It can also be used with fermenter easily. Hops are added into the fermentation process of hops to effectively utilize the chemical components of hops. It can reduce the consumption of hops in production, form beer flavor and improve the balance of beer flavor.
2、Best CIP SYSTEM is an important part of beer brewing technology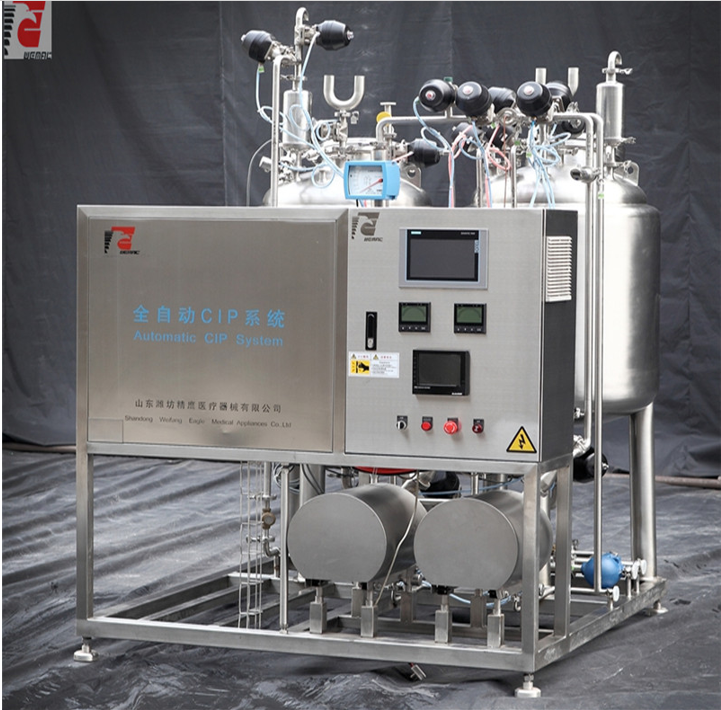 The Cleaning device of the CIP(Cleaning In Place) is the mechanical circulation cleaning method, and the closed circulation is formed among the cleaned equipment, the vessels, the pipeline and the washing liquid storage tank, the complete cleaning is carried out in. The best CIP cleaning device can be applied saccharification, fermentation & filtration, and packaging process, it also can be equipped in the above three processes separately for daily cleaning and regular cleaning.
Use physical and chemical methods to clean equipment, containers, residual fluid in the piping material of breeding ground for bacteria such as reliable, equipment, pipeline, to meet the clean, sterile conditions, ready for production use again. According to the specific requirements of different equipment and pipeline cleaning,CIP cleaning can be divided into hot washing, cold washing, acid washing and alkaline washing. There is a wheel at the bottom of the device for easy movement to the side of the equipment.
Equipped with pipelines that match the equipment, connected with the cleaning ball of the tank, and the powerful cleaning pump at the bottom pumps the water into the equipment to achieve effective cleaning of the equipment.ranging from 50L to 3000L.
This beer cleaning equipment can surpass most commercial beer cleaning equipment in terms of material and overall performance. This is one of the best commercial beer equipment.
3、Best commercial 2000L Brite tank/bright tank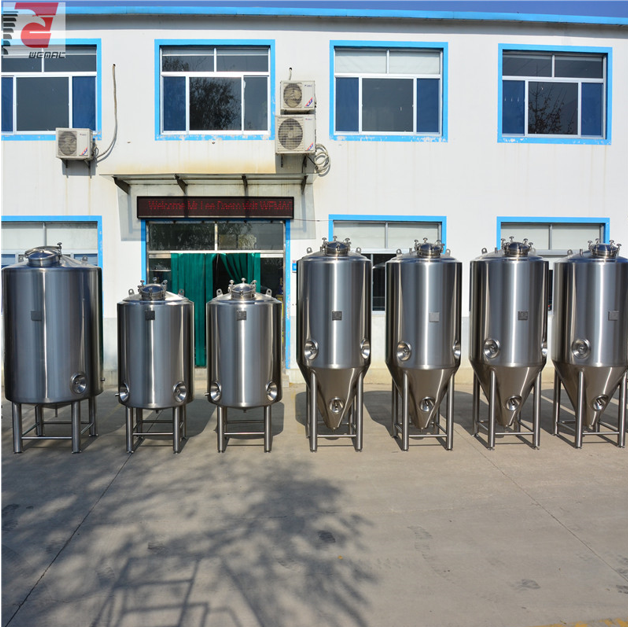 To choose the best 2000L commercial Brite tank, you should first pay attention to its basic parameters. In the future, the quality of beer brewed by your beer equipment will be the best, and the maintenance cost will be the lowest, which you will have to consider.
Dimension: Φ1560mmx2350mm
Material:SUS316L or SUS304
Interior Shell: 2B/mirror plate; TH=3mm
Exterior Shell:2B/mirror/brushed plate; TH=2mm
Dish head, cylinder, oval, ball or cone at the end ;60 degree cone bottom(adjustable);
Dimple jacket or dribbling cooling ,PU insulation,TH=80-100mm
Withstand voltage of tank is 4bar;
Tank equip with lifting leg,electromagnetic valve or mechanical pressure regulating valve,manhole(top or side),
sample valve,temperature sensor, adjustable leg,beer mouth, discharging outlet,coolant inlet and outlet,
CIP inlet and outlet,360 degree cleaning ball, pressure gauge.
Option:CO2 filling device with titanium rod distributor;level gauge 2000L (20HL) jacketed brite tank characteristics
◆100% TIG welding with pure argon gas shield;
◆The pipe mouth stretch technology and automatic tank welding equipment ensure the tank with no dead angle,
no material residue and easy to clean;
◆Tank polishing precision ≤0.4um,no distortion, no scratches;
◆Tanks and cooling devices are tested for water pressure;
4、Best commercial Beer filling machine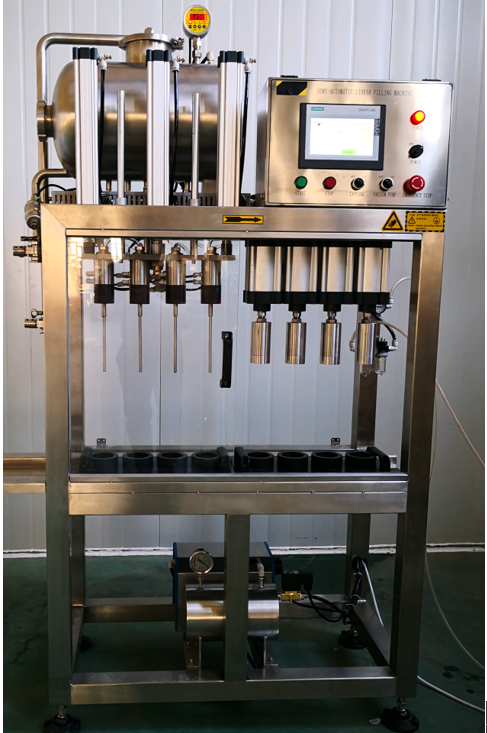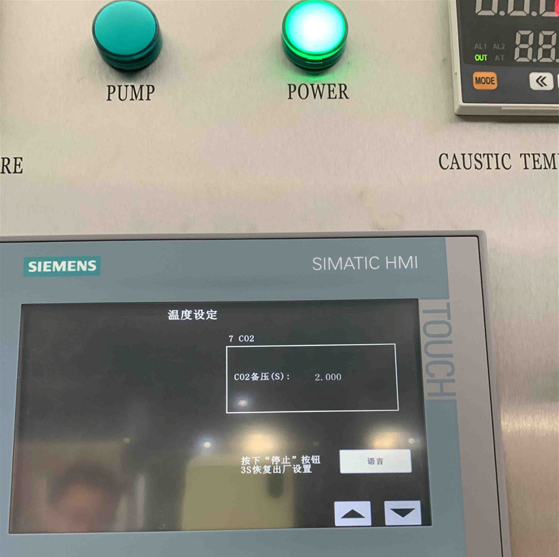 For a best commercial beer equipment, safety, ease of operation, is very important. We are designing a best beer filling machine to meet these two most important technical features.
All electrics including wiring have UL on all parts and wires,When running washer, can all setting be adjusted.
Be able to wash one keg and fill another keg at same time.
Water heaters and control system working and set with automated program
All set up and installation information in manual properly in English.
The equipment is divided into two types: semi-automatic and full-automatic. It is controlled by an electric control cabinet and can manually control the flow rate and filling rate through programs.
Isn't that the kind of high performance commercial beer filling equipment you want to choose? Well, if you still want to customize, please send the requirements separately, we have the best design team to customize for you.
5
、
Indispensable commercial beer equipment-Carlsberg flask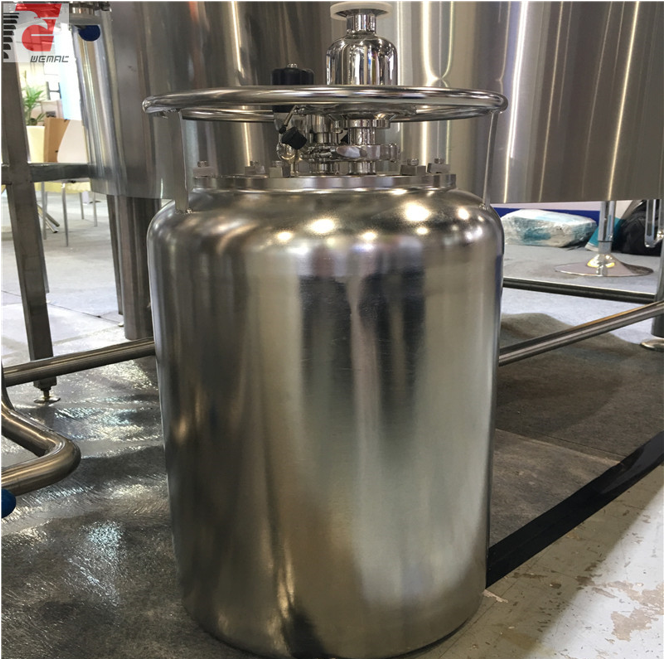 To choose the best commercial beer equipment, Carlsberg flask is an important part of the beer production process.
The Carlsberg flask is one of the most important equipments from the laboratory stage to the large production stage in the yeast expansion process, and plays the most important role in the expansion, preservation and transportation of the yeast.
WEMAC Carlsberg flask is specially equipped with safety valve and aseptic breathing valve, which plays the most effective safety and quality guarantee in the expansion of yeast production. The concave design of the bottom in the tank also plays a safety protection role.
WEMAC Carlsberg flask is specially equipped with safety valve and aseptic breathing valve, which plays the most effective safety and quality guarantee in the expansion of yeast production.
Yeast expansion of wort requires sterilization treatment, external heating or direct steam sterilization, and when yeast cultures oxygen, the safety valve for safety protection,and the aseptic safety valve for safety when cooling.
6

、

The best commercial Yeast breeding system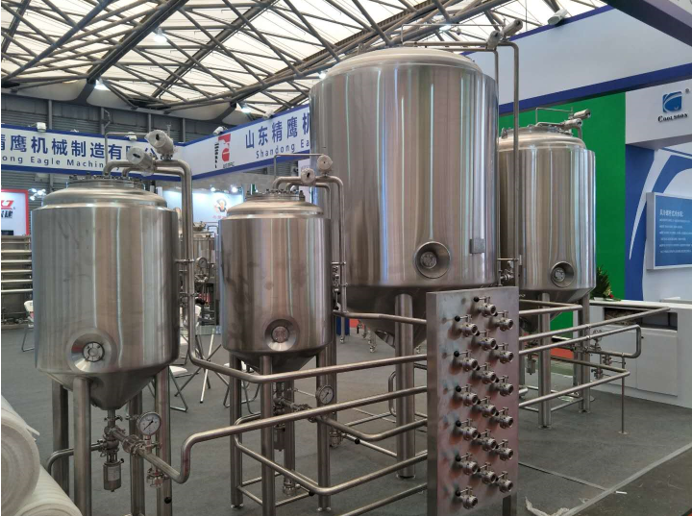 The main purpose of beer yeast breeding system is to further expand the yeast population. Then, year expansion is mainly to improve the utilization rate of year and better quality,which is suitable for larger craft beer production systems. In addition to the main equipment for yeast expansion, such as laboratory test tube culture, triangle flask culture, cartesian pot culture, and hanson pot culture, the yeast expansion tank used in mass production is divided into primary culture tank, secondary culture tank, and tertiary culture tank. The best commercial year brewing system also needs a series of auxiliary commercial beer equipment: CIP cleaning equipment, steam sterilization equipment, air filtration equipment for ventilation, cooling and refrigeration equipment, yeast delivery pump, etc.
7
、Best commercial
Fermenter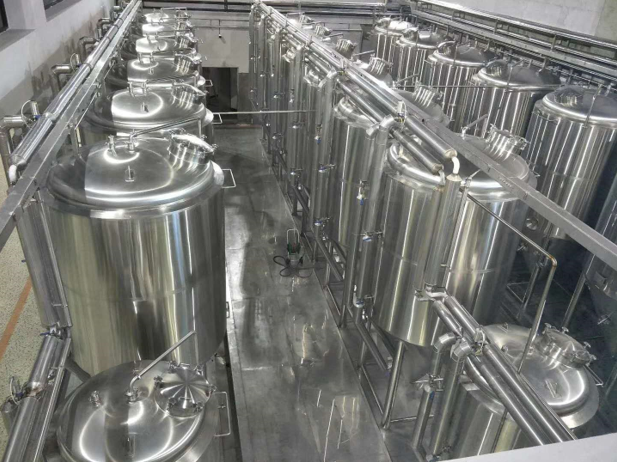 Single head design, fermenting tank with jacket, jacket filled with polyurethane foam, has the function of heat preservation for beer, the pressure resistance of the tank is 2.5bar and compared with the traditional fermentation tank, we use more materials, thicker materials and quality More superior, the top of the equipment is equipped with a cleaning ball, which can be connected to the CIP system. It is easy to clean after the equipment is used to ensure that the next use of the fermentation tank will not be affected. The top manhole has a safety valve and the bottom has a sewage outlet. And the wine valve sampling valve.
Regarding the temperature adjustment, there is a well-known brand temperature sensor, and the quick chuck connection.
with hop inlet port in the top tank,For temperature control, our jacketed insulation is covered with cold water pipes, which can be connected to cold water to control the temperature of the fermentation tank.
8

、

Best commercial Beer equipment--Mash system & Brewhouse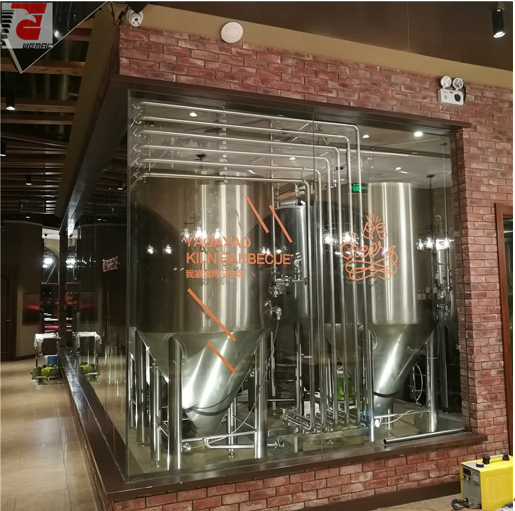 The best commercial beer equipment must have beer saccharification system. The performance of commercial beer equipment must be the best. We can make the best mash system, and it can be heated in a variety of ways. The heating method of mash system, there are electric heating, steam heating or direct fire heating.
The inner of mash tun is made of high-quality stainless steel, really firm and durable.
The cladding of brewhouse is made of stainless steel or copper.
The inner and outer cylinders are made of aluminum silicate rock as insulation layer.
This is the Grain Remove Door on our mash tun,it can collecting the spent grain and processing them in a unified way.
There is a chute under the door, it can reduce the spent grain splatter.
Manual Cultivator lift system,can reduce the risk of automatic lifting failure, and easy to operation.
The heat is leaked out, so the energy saving effect is very good.
It's the Platform and steps of WEMAC brewhouse.Stainless steel,in very good quality.
The welding seam is finely treated, without deformation;
External surface brush treatment, in beautiful appearance.
The Pipe layout, opening position, etc. all meet the operational, site installation and visit requirements.
Round glass manhole, dish-shaped head.
9

、Best

30L Home Beer brewing equipment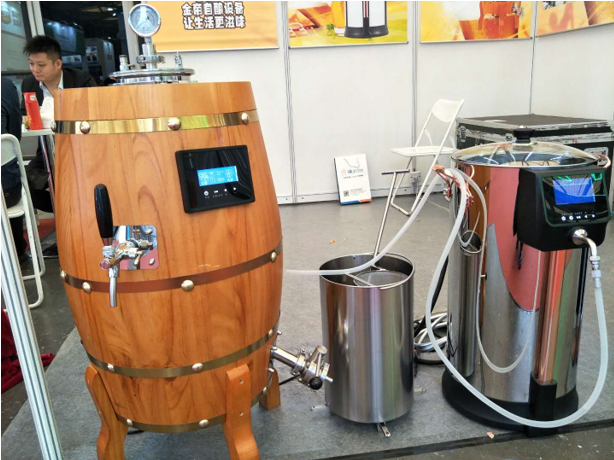 Voltage: 110V-240V
Power: 1600W-2000W
Specification: 30L
Can be commercial
Net Weight Of Mash Machine:20KG
Net Weight Of Fermenter:16KG
Scope of application: household, commercial
Function: cleaning, heating, mash, filtration, boiling, cooling machine
Function buttons: LED display, touch control buttons, automatic and manual
Sprinkler system: Circulating shower allows the wort to penetrate evenly, the temperature is consistent, and the sugar yield is increased.
Cooling system: Efficient cooling, reducing the risk of wort contamination and improving beer quality and taste.
Glass cover: high borosilicate glass, not easy to break down.
Also including the Liner filtration and Circulating pump.
Malt filter bucket: wort and malt are completely separated for convenient washing and shortening brewing time
Removable, the whole can be removed outside the barrel
Welding method: argon gas welding, sanding belt.
Filtering method: natural filtering.
And double function of cleaning and wort circulation
10、The best commercial 50L Small Size Beer Brewing Equipment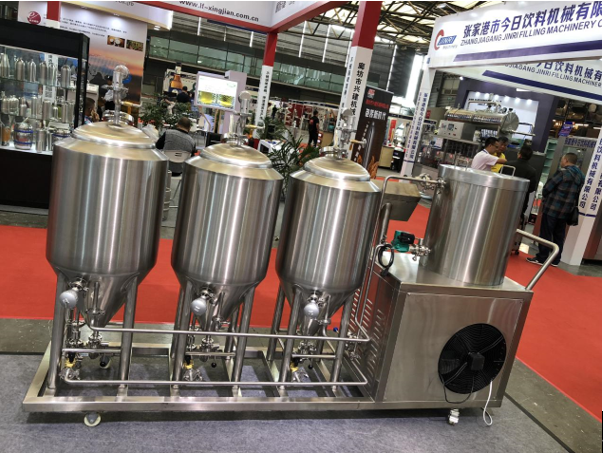 Small beer equipment, can be flexible use of the store space, to maximize profits. The best commercial 50L beer brewing equipment needs reasonable design and full use of space. This requires a good communication with the brewery equipment manufacturer.
50L home brew 2 vessel Mash/lauter tun + kettle /whirlpool tun . its portable heating by electrial
Connection type of pipelines for equipment is quilc accembly which is convicent for cleaning ,Reasonable design ,delicate process ,beautiful appearance ,Small size, convenient operation, easy to clean, with rollers on the bottom, convenient to move, suitable for family use, low investment to enjoy the fun of beer making
11

、

The best commercial

100L Beer Brewing Equipment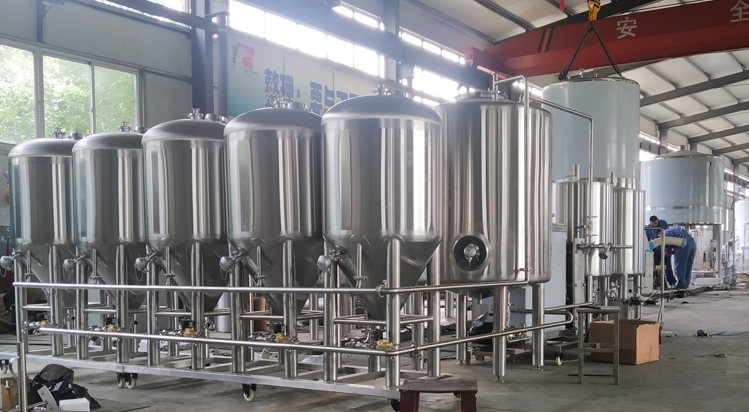 100L American two-vessel mash equipment, 100L mash filtration + boiling + ice water + 5 100L fermentation tanks, this equipment is mash steam heating, fermentation automatic temperature control, with a plate change, there is a wort through the spin Then, it enters the plate exchange, the ice water enters the ice water tank, and then the wort is cooled, and after the plate exchange, it enters the fermentation tank through the wort tube.
2. There is a hop filter on the front of the plate changer, which can effectively filter the hop substances in the wort, protect the plate changer, and reduce the cleaning frequency and cleaning cycle of the plate changer.
3. The sampling valve can be combined with the pipe sight glass. It is convenient to observe the clearness of the wort when the wort is filtered, and it is convenient to take a sample to measure the sugar content after the wort is clear.
4. The mash steam heating can prevent the potting phenomenon during the mash process.
5. There are two batching tanks for pharmacy, with bottom magnetic stirring, with bottom valve and jacket for heat preservation
12

、

The best commercial 500L Craft Beer Brewing Equipment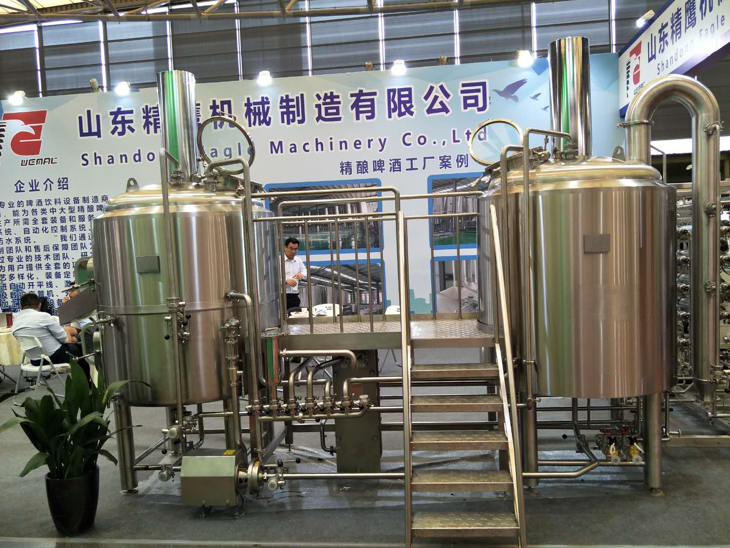 500L (5HL) commercial Craft Microbrewery Equipment product advantage:
1.WEMAC supply commercial beer brewing system with turn-key project.
2.WEMAC provide commercial beer equipment with free consultation,3D design,free installation,training.
3.Three years warranty for the main equipment and spare parts.
4.WEMAC beer machine brew different flavors of beer and brew several flavors of beer at the same time.
5.WEMAC beer machine has beautiful appearance, it is convenient for customer visiting.
500L (5HL) commercial Craft Beer Microbrewery Equipment application scope
small and medium breweries, regional breweries,bars, hotels, beer houses, restaurants, clubs, schools, laboratories, farm breweries etc.
500L (5HL) Craft Microbrewery Equipment basic information
Milling system

Stainless steel or carbon steel malt mill
Flexible or stainless steel screw conveyor



Mash system

Material:SUS316L, SUS304,copper;
Mash & kettle& lauter & whirlpool tun are any combination;dimple jacket or dribbling for heat exchanger, rock wool insulation,TH=80-100mm,upper stirring or bottom stirring,lauter plate:milling,side or bottom vinasse discharging
Hot liquid tank for option;
Plate heat exchanger: cooling form,capacity and piping meet requirements;
Oxygenation system:oxygenation form, capacity and interface form meet requirement;
Yeast adding tank depends on the customer's requirement;
Stainless steel working platform;
Accessories:wort pump, wort tester, hop adding device,hop filter device, saccharimeter,worst rake,CIP system etc

Fermentation system

500L(5HL) / 1000L(10HL) fermentation tank
500L(5HL) / 1000L(10HL) beer brite tank
Amount depends on the customer's request
Dimple jacket or dribbling cooling
Option:dry hop mouth,CO2 filling device with titanium rod distributor,level gauge

CIP

Mobile or Fixed CIP

Energy system

Heating system &cooling system design capacity meet the requirement

Electric system

Stainless steel electric cabinet with imported brand PLC and touch screen or spraying plastics electric cabinet with push-button

Pipeline fittings

Including mash line, alcohol water line and other system line,valves

Filtering and sterilization system

Candle type diatomite filter and pasteurizer


Beer distribution

To bar wine column
Keg washing&filling machine
Bottle brushing&filling machine
Can filling machine
Label machine
13

、

The best commercial turnkey beer brewery system
The best commercial turnkey beer equipment must have a perfect after-sales system. If you choose a beer brewing equipment manufacturer with strength and technical advantages, you can solve many difficult problems in the later stage. Perfect business design scheme, help you to get the maximum business benefits.
WEMAC is the turnkey brewery brewing systems manufacturer in China. We can manufacturer different brewery equipment according to the client requirements.
14

、

The best commercial 1000L Beer brewing system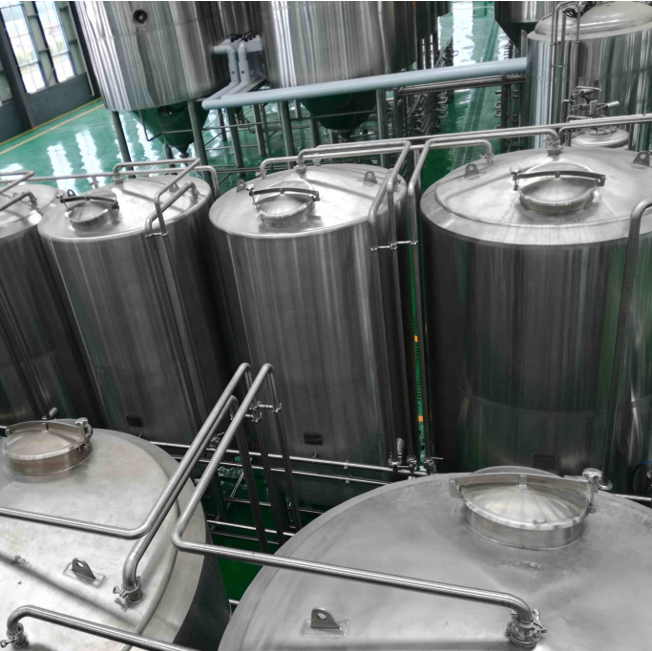 The best commercial 1000L (10HL) Nano Brewery System product advantage:
1.WEMAC supply beer brewing system with turn-key project.
2.WEMAC provide beer equipment with free consultation,3D design,free installation,training.
3.Three years warranty for the main equipment and spare parts.
4.WEMAC beer machine brew different flavors of beer and brew several flavors of beer at the same time.
5.WEMAC beer machine has beautiful appearance, it is convenient for customer visiting.
The best commercial 1000L (10HL) Nano Brewery System Application Scope
Widely used in bars, hotels, beer houses, restaurants, clubs, schools, farm brewery and so on.
1000L (10HL) commercial Nano Brewery Systembasic information
Output capacity:10HL(1000L)
Heating method:steam, electricity or direct fire;
Area request:80㎡
Building height requirement:3.5m
Power supply:Single Phase/ 220(110, 240…)v/50(60)Hz
3phase/380(220, 415,440…)v/50 (60)Hz
1000L (10HL) best commercial Nano Brewery System technology configuration