What is large scale beer brewing equipment? As the name suggests, it is a large-scale equipment with more liquor output. Large scale beer brewing equipment, suitable for industrial beer production line.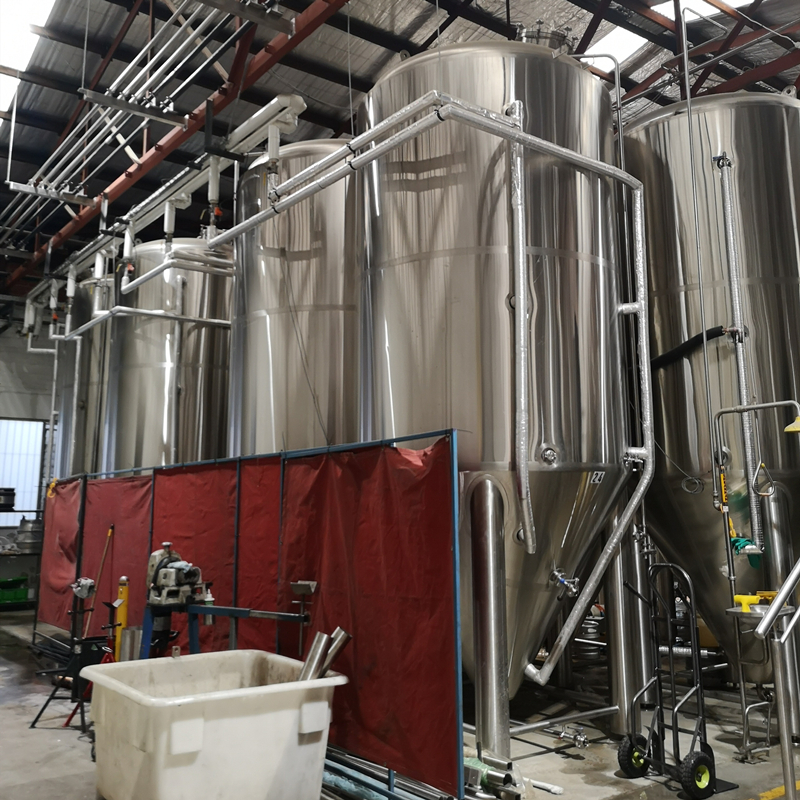 Some places are also called white steel cans, wine barrels, fermentation barrels, beer cans. Of course, the most important technology is mashing and fermentation. The specific data are as follows:
mashing:
Name

2000L

3000L

4000L

Size

Φ1450






volume

2000L

3000L

4000L

Material

SUS304

Heating mode

Electric steam, natural gas, direct fire heating, etc

Polishing accuracy

≤0.6um

Motor power

1.5KW

1.5kw

2.2KW

Cleaning device

Built in cleaning device

Mixing mode

Top stirring or bottom stirring

Exhaust mode

Indoor exhaust or outdoor exhaust
Large and medium-sized scale beer brewing equipment is often used in small brewery factory projects.
It is often used for brewing pure fresh beer with unique flavor, and it is used for retail and wholesale in long and short distance after barrel filling and bottle filling.
The complete set of beer brewing equipment needs to cooperate with specific brewing technology to ensure continuous production of beer.
It takes about 12-20 days to prepare wort and stock liquor from the initial malt crushing process in different tanks, which are mashing, filtered, boiled, swirled and fermented.
After the fermentation, the original beer pulp can be directly drunk and sold. If equipped with fine filtration and sterilization equipment, beer can be bottled or tinned to keep it longer. The main parts of the whole beer equipment, such as mashing system, fermentation system, ice water tank and other double insulation tank parts, valve body and pipe fittings are made of sanitary stainless steel. The pure taste and hygienic index of beer are guaranteed, and the effective service life of the equipment is greatly prolonged.
The main body of large-scale beer brewing equipment is composed of tanks with different uses. Each tank is equipped with professional control and measurement accessories to achieve rapid and effective control and measurement of the specific brewing process. Plough knife, rotate and stir the layer of malt grains to promote full saccharification. Equipped with different specifications of motor, provide strong power, optional transmission, achieve different stirring speed. Steam jacket, the tank of saccharification system is welded with steam jacket, which is convenient to control the temperature of saccharification boiling process by using the hot steam of boiler.
Cleaning in place (CIP) is widely used in breweries to clean and sterilize the equipment, that is, the process of cleaning and disinfecting the equipment without removing the equipment parts or pipe fittings in the closed environment.
The bigger the beer brewing equipment is, the higher the requirement of cleaning equipment is. According to the size and requirements of CIP equipment configuration
It mainly refers to the electronic control, semi-automatic and automatic control of each system. Control of saccharification system, fermentation system and refrigeration system. The control of small equipment is relatively simple and the price is relatively cheap. The control requirements of large scale beer brewing equipment are high, the automation level and complexity are high, and the cost is also high.
Canning system of large scale beer brewing equipment
Beer filling equipment mainly refers to the subsequent treatment and packaging of the liquor after beer fermentation. Simple bottle filling machine, barrel filling machine and washing machine; bottle filling machine with high automation and easy open can filling equipment. And filtering equipment, packaging equipment, etc.
Large scale beer brewing equipment need high concentration dilution equipment.
The conventional output of medium-sized and large-scale beer brewing equipment is 500 L, 1000 l, 2000 L, 3000 L, 4000 L, 5000 l, 10 t, 20 t, 50 t, 100 t, etc. The complete set of beer equipment mainly includes crushing system, saccharification system, fermentation system, refrigeration system, cleaning system, control system and other major components and many auxiliary components.
According to the actual project requirements, water treatment equipment, filtration equipment after fermentation, sake equipment, air compression equipment, laboratory equipment, sterilization equipment, filling equipment and so on can be selected. Large and medium-sized beer brewing equipment is considered to produce more than 24 hours a day, and the filtering function is realized in a single tank, which is called filter tank.   
The volume ratio of saccharification tank and fermentation tank is usually 1:1 or 1:2 for the convenience of beer brewing process. Large and medium-sized beer brewing equipment considers the production of more than 24 hours a day, and the mashing function is realized by a single pot called mashing pot.
Choose precision manufacturing and look at the inner structure of the equipment. The inner layer: the inner wall of the cylinder stainless steel 304 original plate is finely polished by argon arc welding; the outer layer is the inner and outer wall fine polishing of the cylinder stainless steel 304 original plate / mirror panel / red copper plate by argon arc welding;
Heating mode: the saccharification system needs to be equipped with a heating device to ensure the segmented heating of malt saccharification process. It can be divided into power distribution heating, gas-fired boiler, oil-fired boiler, etc. Heating mode of boiling pot: steam heating is the main heating method for medium and large beer equipment.
Heat preservation: the refrigerator runs continuously to ensure that glycol ice water circulates back and forth between the water belt of fermentation tank and the plate heat exchanger of saccharification system. Through the cycle heat exchange process of ice water, tap water and hot wort, the requirements of different cooling ranges of beer brewing were realized. Saccharification equipment, a medium and large beer brewing equipment, is considered to produce 24 hours a day in multiple batches, and the cyclone sedimentation function is a single tank, which is called cyclone sedimentation tank
The main function of refrigeration system is to provide cold source for wort cooling and fermentation cooling after swirling precipitation. The main equipment consists of: ice water tank (add 30% of the tank volume of ethylene glycol or edible alcohol, to ensure zero freezing at - 6 ℃), cold water tank (large beer brewing equipment and multi batch brewing needs this equipment, small can not be used), and refrigerator.
Insulation layer: high density foam polyurethane insulation material with thickness of 80-120mm is filled between two tanks.
Factory type beer equipment, multi saccharification equipment, shift production, multi batch saccharification. Three sets of saccharification can be used 24 hours a day to produce three batches of saccharification. Four vessels of saccharification can produce four batches of saccharification 24 hours a day.
The size of saccharification equipment and the highest batch capacity of saccharification determine the maximum capacity of the equipment. For example:
2 tons of saccharification, the maximum daily output can reach 4 tons.
Two tons of saccharification can reach 6 tons per day.
2 tons of saccharification in four vessels can reach 8 tons of daily output at most.
The size and quantity of beer fermenter.
Daily production = volume of fermentation tank × number of fermentation tank / beer fermentation time
The volume of saccharification equipment and fermentation tank can be 1:1,1:2 The volume of fermentation tank is a multiple of saccharification. Simply put, within 24 hours, the mashed wort is filled with fermenters for fermentation.
The fermentation period of wheat beer was 1-2 weeks, and that of barley and lager was 2-4 weeks. The average fermentation period was 12 days. Take 500L fermentor as an example.
That is: daily output (250L) = fermentation tank volume (500L) × number of fermentation tanks (6) × beer fermentation time (12 days)