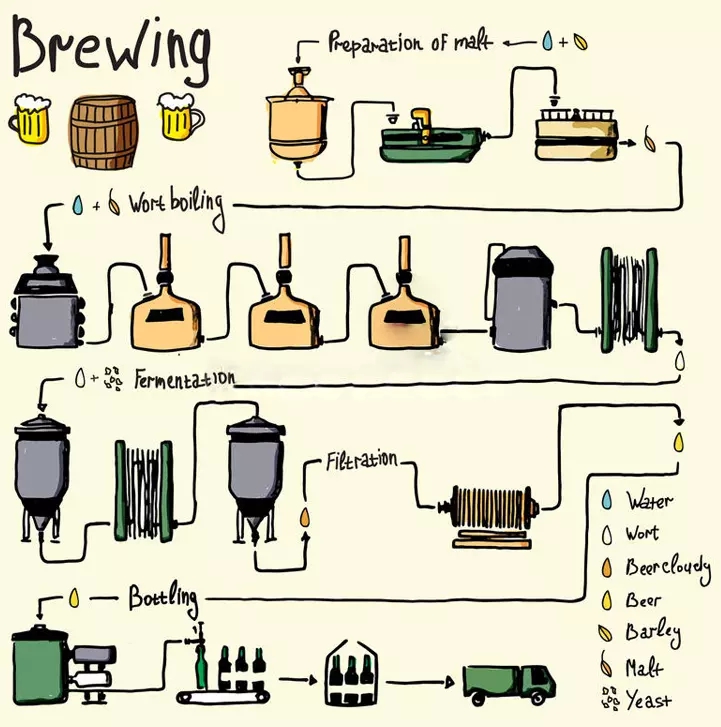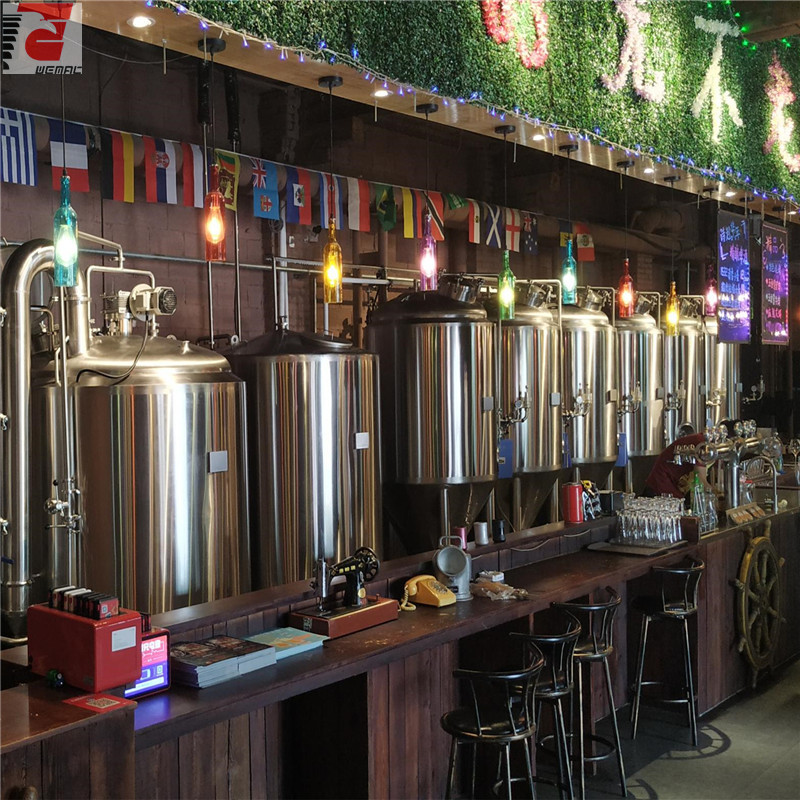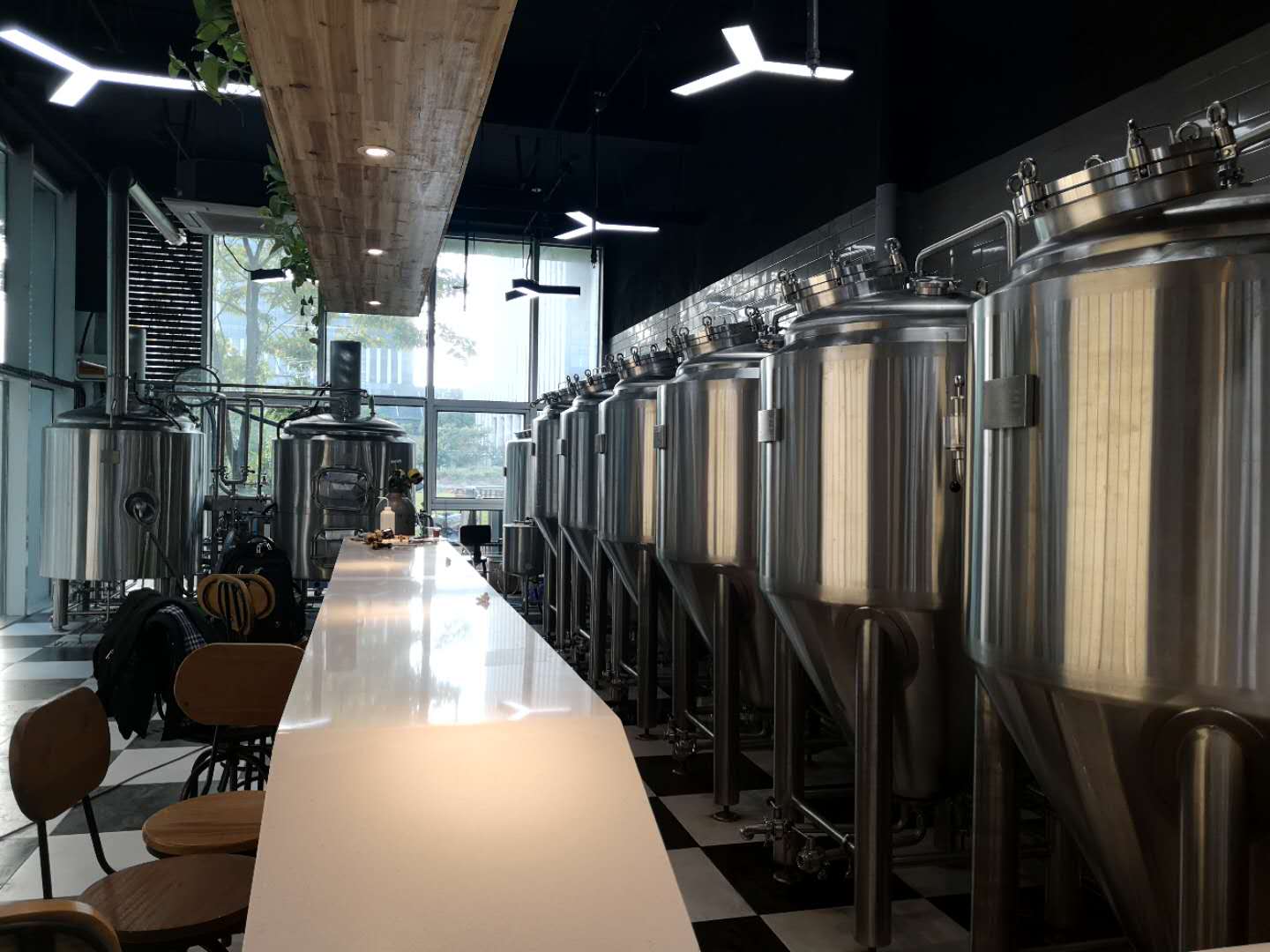 How to make beer?
Beer, with barley bud, hop, water as the main raw materials, yeast fermentation by the production of a low alcohol content with carbon dioxide, known as "liquid Bread", is a low concentration of alcoholic beverages.
Beer alcohol content is the least, so drinking beer is not easy intoxicating health, a small amount of drinking on the other is beneficial to the body. Most of the steam heating beer brewery international beers are now added as auxiliary materials.
Process of beer brewing :
Use mill to smash the grains,then transfer to brewhouse.
The brewhouse including the mash/lauter tun,boiling/whirlpool tank and hot water tank if necessary,these parts also have different steam heating beer brewery combinations.
Then the wort will go through the exchanger for cooling down and then to fermenters for fermentation process.
Our beer can be drinked in the fermenters,if need to filling inside the bottles or kegs,need the filter and filling system.
Introduction of Micro Beer Brewing Equipment:
Complete brewery-systems for microbreweries with production from 100L up to 5000L of beer per day. 1000L | 2000L | 3000L | 4000L | 5000L brewhouse sizes are produced standartly, but also custom-made specially composed brewhouses are manufactured on customer's request. Our brewing equipment enables production of all styles of beer. All brewing operations as well as fermenting & conditioning process can be controlled via semi-automatic-control with programming system, or can be fully automatic (computer controlled) depending on customer's requirements.
Complete Brewing Equipment
1.Milling System
2.Brewhouse system
3.Fermenting System
4.Cooling System
5.CIP System
6.Filter System
7.Filling Machine
8.Controlling System
| | |
| --- | --- |
| Mash tun | Grain mashing |
| Lauter tun | Wort filtration, with false bottom, sight glass, lauter rake and motor, spent grain out |
| Kettle/whirlpool tun | Wort boiling, whirlpool |
| Hot liquid tank | Hot water supplying for mashing, sparging, cleaning, hot water recycling |
| Accessories | Plate heat exchanger, pumps, work platform, hardpiping etc. |
| Heating method | Steam heating/Dirct fire heating/Electric heating |
Beer brewing production is not a simple task. All processes such as mashing and fermentation need to be strictly controlled to ensure the quality of the final beer. Therefore, a set of highly automated equipment can help you a lot in the beer brewing process.
The common control systems of the equipment include PLC touch screen control, button control and manual control, etc., relying on sensors and pressure gauges and other instruments to detect the saccharification state and realize the automation of the brewing process.

WEMAC focuses on the production of brewing equipment and has more than 60 years of equipment production experience. It provides various types of fermentation vessels and mash brewing systems. If you have a need for beer brewing and building plants, and are interested in equipment distribution, we look forward to working with you and catch up the local market.