This product is a two-vessels beer mash equipment, the combined form is mash/kettle tun + lauter/whirlpool tun, which mainly turns the crushed malt into wort through the mash equipment.
---


Best 1000L (10HL) Nano Brewery System
1000L (10HL) Nano Brewery System product advantage:
1.WEMAC supply beer brewing system with turn-key project.
2.WEMAC provide beer equipment with free consultation,3D design,free installation,training.
3.Three years warranty for the main equipment and spare parts.
4.WEMAC beer machine brew different flavors of beer and brew several flavors of beer at the same time.
5.WEMAC beer machine has beautiful appearance, it is convenient for customer visiting.
1000L (10HL) Nano Brewery System Application Scope
Widely used in bars, hotels, beer houses, restaurants, clubs, schools, farm brewery and so on.
1000L (10HL) Nano Brewery Systembasic information
Output capacity:10HL(1000L)
Heating method:steam, electricity or direct fire;
Area request:80㎡
Building height requirement:3.5m
Power supply:Single Phase/ 220(110, 240…)v/50(60)Hz
3phase/380(220, 415,440…)v/50 (60)Hz
Note: 1HL=100liter; 1Gallon=3.7854liter; 1BBL(Barrel ) =117Liter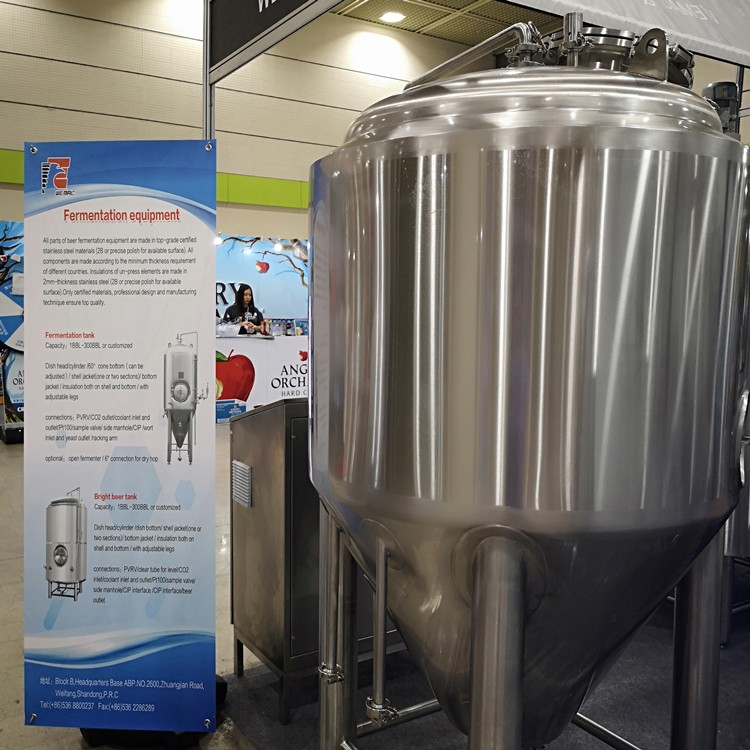 1000L (10HL) Nano

Brewery System

technology configuration
Milling system

Stainless steel or carbon steel malt mill
Flexible or stainless steel screw conveyor



Mash system

Material:SUS316L, SUS304,copper;
Mash & kettle& lauter & whirlpool tun are any combination;dimple jacket or dribbling for heat exchanger, rock wool insulation,TH=80-100mm,upper stirring or bottom stirring,lauter plate:milling,side or bottom vinasse discharging
Hot liquid tank for option;
Plate heat exchanger: cooling form,capacity and piping meet requirements;
Oxygenation system:oxygenation form, capacity and interface form meet requirement;
Yeast adding tank depends on the customer's requirement;
Stainless steel working platform;
Accessories:wort pump, wort tester, hop adding device,hop filter device, saccharimeter,worst rake,CIP system etc

Fermentation system

10HL(1000L) / 20HL(2000L) fermentation tank
10HL(1000L) / 20HL(2000L) beer brite tank
Amount depends on the customer's request
Dimple jacket or dribbling cooling
Option:dry hop mouth,CO2 filling device with titanium rod distributor,level gauge

CIP

Mobile or Fixed CIP

Energy system

Heating system &cooling system design capacity meet the requirement

Electric system

Stainless steel electric cabinet with imported brand PLC and touch screen or spraying plastics electric cabinet with push-button

Pipeline fittings system

Including mash line, alcohol water line and other system line,valves

Filtering and sterilization system

Candle type diatomite filter and pasteurizer


Beer distribution

To bar wine column
Keg washing&filling machine
Bottle brushing&filling machine
Can filling machine
Label machine
This product is a two-vessels beer mash equipment,the combined form is mash/kettle tun+lauter/whirlpool tun, which mainly turns the crushed malt into wort through the mash equipment.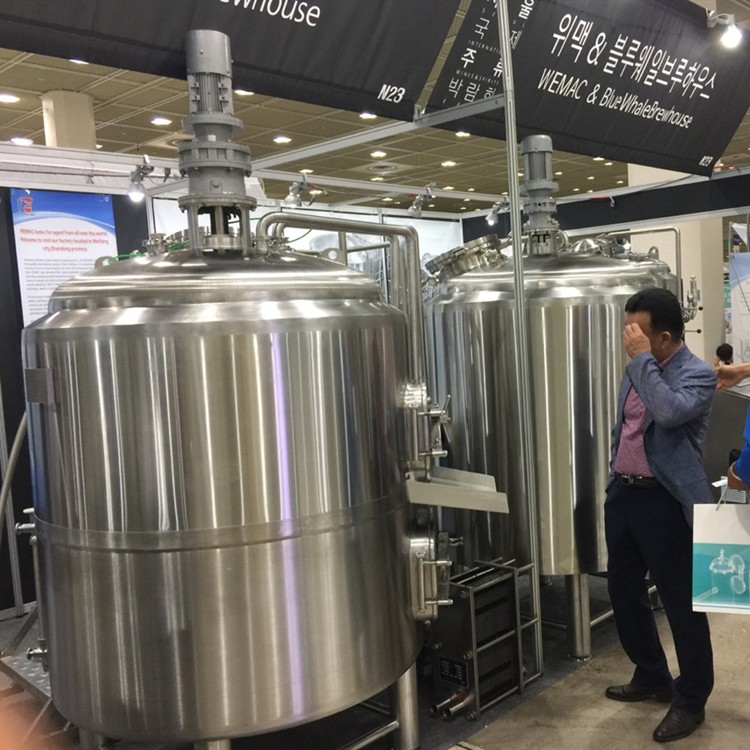 Mash/kettle tun : It is heated by steam, which can achieve the effect of energy saving and environmental protection. Both the cylinder and the bottom can be controlled separately. The tank has a double-layer insulation, and the heating speed is fast. The stirring system on the top can make the mash evenly saccharified, so that the wort and the polymer can be separated quickly.
Lauter/whirlpool tun: It is composed of upper and lower two-layer structures, the upper layer is a filter tank, and the lower layer is a spinning tank, which can realize natural filtration and suction filtration. The whirlpool tun is designed as a vertical cylindrical trough, which can separate the hop trough and the heat coagulation well to obtain clarified wort.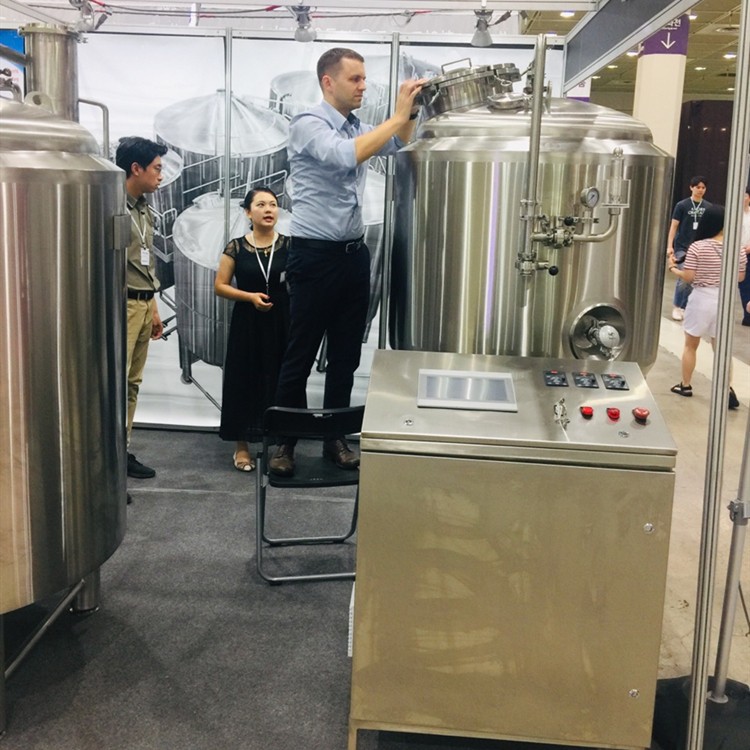 PLC control cabinet,large touch screen,The temperature sensor wiring of the brewing system and the fermentation system is summarized, and the signal line is connected to monitor the operation of the equipment in real time. Users can set the temperature and time according to different types of beer, which is suitable for the brewing and production of IPA Larger and other beers. According to the brewing time of 6-8 hours per day, the equipment can brew two batches of 1000L each batch, reaching the output of 1000L-2000L.
After the brewing is completed, it is filtered through a plate heat exchanger for preliminary cooling. , And then pumped into the fermentation tank, the cold water tank is provided with alcohol water through the refrigerator, and the alcohol water is circulated and refrigerated in the jacket of the fermentation tank to provide suitable temperature conditions for beer fermentation.
The inside of the main body of the equipment tank adopts mirror polishing treatment, and the outside adopts frosted polishing treatment. The equipment adopts automatic control operation to ensure the accuracy of the operation and proportion composition in the process stage, so that the taste and taste of beer are consistent.
WEMAC can realize customization according to different types of customers, different output, site and capital requirements, etc., match and combine equipment, and provide customers with complete design solutions.