Summer is coming soon, and beer will soon become our main alcoholic beverage. So what list of beer equipment is needed? How to install beer production will double? Lets elaborate today.
What are the components of beer equipment? This is the answer that people who want to make craft craft beer are very eager to know. Dijia Craft Brewing Editor lists the craft beer equipment list for your reference.
Here, we mainly introduce commercial craft beer equipment.
Commercial beer equipment is divided into integrated beer equipment and split beer equipment.
One beer equipment
We are beer brewery equipment manufacturer and supplier in china. As a beer brewery equipment manufacturer, we have beer brewery equipment factory and design team. We provide OEM beer equipment service.
Beer brewing equipment is the equipment used for industrial beer production and craft beer production. It is made of 304 and 316L stainless steel, with polish in outer and inner surface. The whole equipment is composed of different tanks and pipes to form certain process function.
We can make large scale beer brewing equipment for industrial beer brewery plant and factory. Also we design and manufacture Home brewing equipment, craft brewing equipment, microbrewery equipment, commercial brewing equipment.
* Processing : Fermenting Equipment, Beer Brewing
* Brand : WEMAC
* Condition : New
* Material : SUS 304 316L
* Size : To Be Determined
* Place of Origin : Weifang, China (Mainland)
* Control system : AUTO/MANUAL
* Warranty : Within 24 months against the date of B/L
* Voltage: : To Be Determined (220V/ 380V/ 415V)
1. Mash system, Saccharification system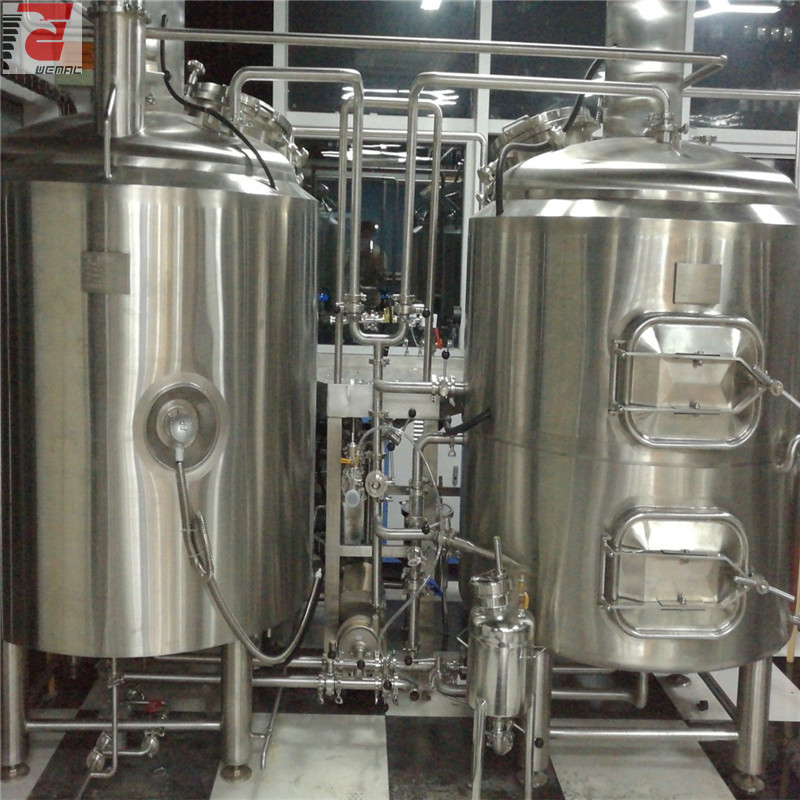 (1) Mash tank (2) Centrifugal pump (3) Measuring cylinder (4) Food-grade stainless steel valves and fittings (5) Thermometer, electronic digital display thermometer (6) Brix meter (7) Carbon dioxide gas cylinder (8) Food-grade hose (9) Sewage hose (10) Crusher (11) Weighing (12) Distribution box (13) Leakage circuit breaker
2. Fermentation tank
It is a fermentation device that completes the fermentation function required by the process. It is usually has two types: vertical fermenter and horizontal fermenter. Vertical fermenter generally adopts cylindrical and cone bottom structure.The upper head is a cone seal or a dish. The horizontal fermenter is a cylindrical cylinder and a dish head structure. The inner is made of high-quality stainless steel. The cladding can be brushing/mirror/copper. It is equipped with breathing safety valve, sample valve, temperature probe, CIP interface, wort interface, top or side manhole etc.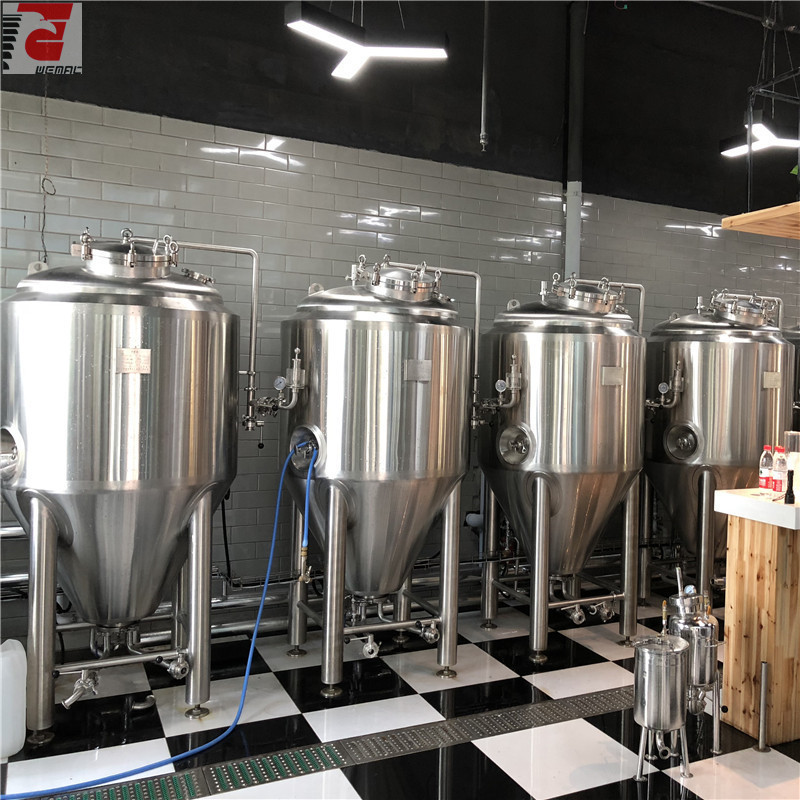 (1) Fermentation tank (2) Food-grade stainless steel valve fittings (3) Breathing valve, quick-fitting clamp (4) Wine head (5) Pressure gauge (6) Beer tag
Split beer equipment
1. Mash system, Saccharification system
(1) Mash and boiling pot (2) Filtration rotary sink (3) wort pump (4) plate heat exchanger (5) steam generator (6) mash combined pipeline (7) wort thermometer (8) Temperature measurement and oxygenation combination (9) Measuring cylinder (10) Sugar meter (11) Operating platform (12) Crusher
2. Fermentation system
(1) Fermentation tank (2) Yeast addition tank (3) Beer tube (4) Refrigerant pipeline (5) Thermal insulation pipeline
3. Refrigeration system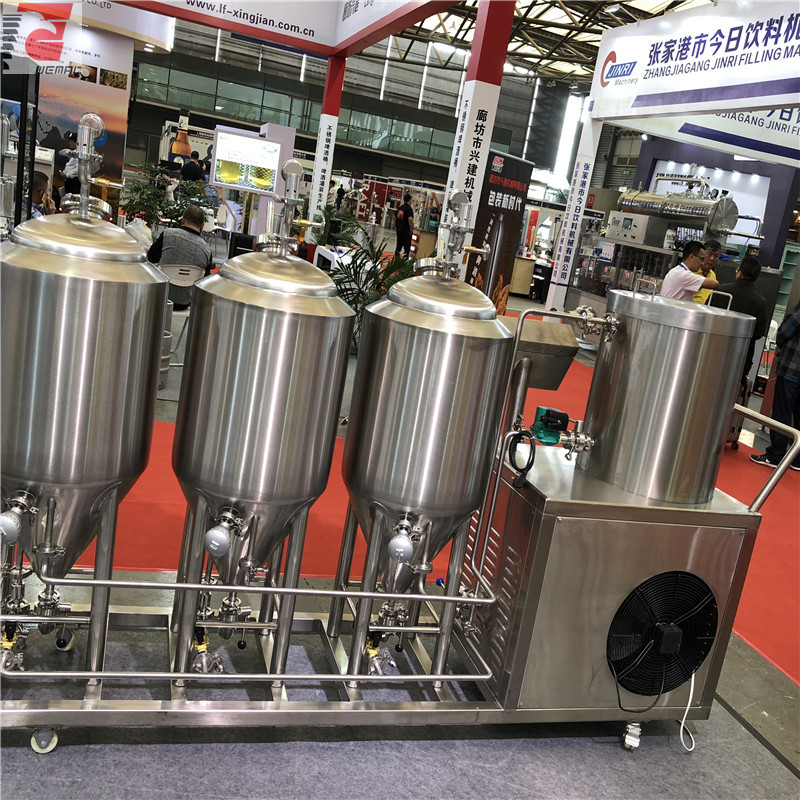 (1) Ice water tank (2) Refrigeration unit (3) Ice water pump (4) Pipeline (5) Valve (6) Insulation pipe
4. Cleaning system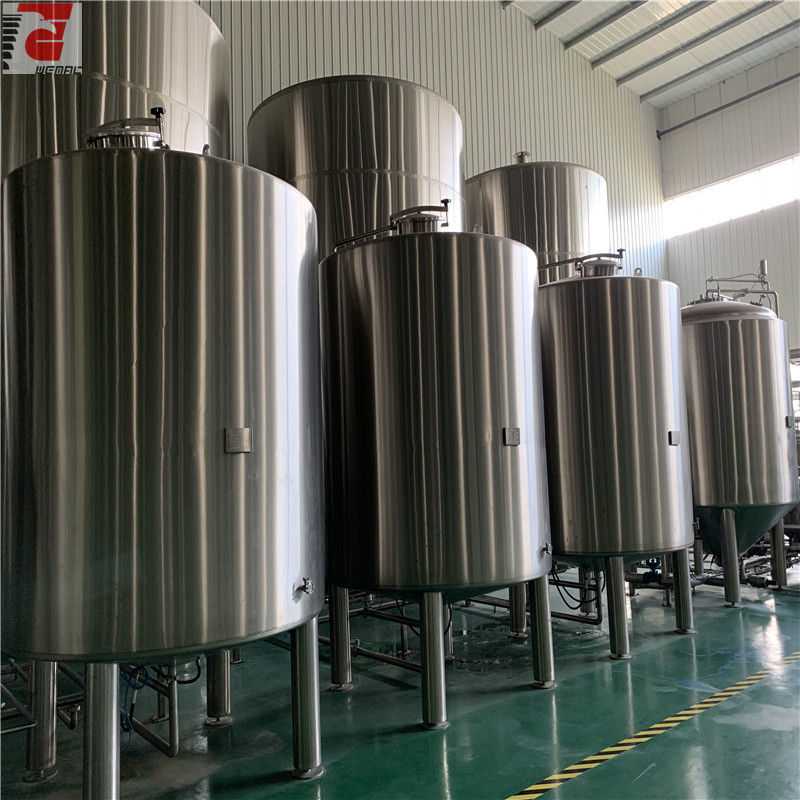 (1) Disinfection tank (2) Alkaline liquid tank (3) Disinfection truck (4) Washing pump (5) Pipeline and valve (6) Control box (7) Steel wire hose
5. Control system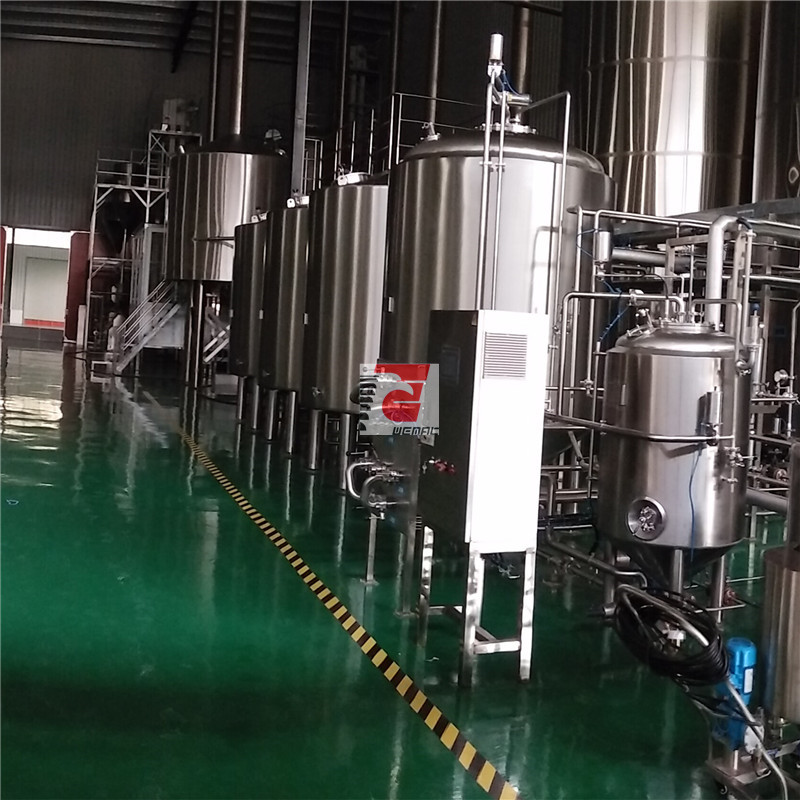 Control cabinet
Craft beer equipment is composed of these components. After reading the list of craft beer equipment, do you know the beer equipment more clearly?
According to this beer brewing equipment list installation, beer production efficiency will be greatly improved. As commercial beer equipment, isn't this what we need?